Business Industry Types
Accentis Enterprise is in use by many businesses industry types. With so many features required by such a diverse range of business types, we're confident we already have the feature you require. Strengths that make us such a popular option for many businesses include but are not limited to, customised data capture and exceptional reporting across the entire product.
No matter what business service your provide, Accentis Enterprise is ready to help you manage it. From hiring staff to hiring equipment, buying and selling, growing and producing, through to manufacturing and importing, we can handle it all. So no matter what industry you're in, or whatever business type you are, Accentis Enterprise is the ERP for you!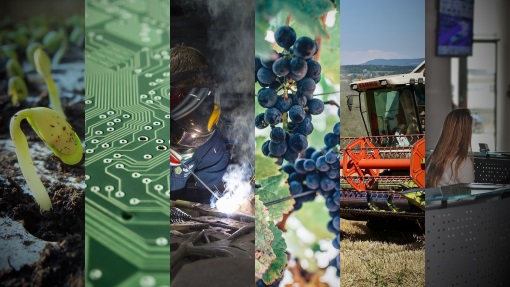 Get an ERP system and change your business growth!
Industries
Accentis Enterprise is suited to many industries in many varied fields of speciality, which include many business types and services. We're constantly looking for new and exciting industries that we can help to manage.
Agriculture / Aquaculture
Servicing producers who require multiple record-keeping abilities over long periods of time.
Building & construction
Processes for material handling and management of multiple work orders quoted by forecasting costs.
Electronics
We cover multiple industries in this sector that include avionics, building automation & circuit board assembly.
Food
Food production relies on Accentis Enterprise for correct management of produce versus waste control.
Horticulture / Nursery
We'll help you grow more than just your plants, and save you more than just your water.
Mechanical & transport
Supply-chain logistics and control give you peace of mind from start to finish of any project.
Pharmaceutical / Medical
Intense and accurate record-keeping with advanced features for sensitive medical product accreditation.
Plastics
We service a wide range of plastic producers who excel at moulding and forming their product.
Industry not listed?
How exciting!  Contact us today so we can show you how Accentis is customisable to any business management requirement.
Business types
Many businesses these days don't specialise in any particular industry. They will most likely have traits that carry into a wide-range of industries. Accentis Enterprise will help them develop more products and services required by their clients both locally and globally.
Jobbing, Production, Assembly
Strict control of job requirements coupled with process handling is often required. Accentis Enterprise is exceptional in this area.
Labour hire
People management with time components require extensive management controls. Involves many industry types.
Manufacture
Manufacturing includes so many variables that need to be managed effectively, from purchase through production, to end product delivery.
Not for profit / Non Profit
Capable management of Human resources and accounts ensure all obligations are handled efficiently and correctly with easy reporting.
Projects
Large scale projects need intense processes to ensure deliverability on time and on budget. It's imperitive their business runs smoothly.
Research / Development
Many custom-created fields allow for the expansion of knowledge required to record and view the results that are attained.
Retail
One of the most customer-focused business types, it's important to always be able to give the best service you have to offer.
Service & repair
Project focussed businesses with a large employee management requirement. Time control and job costing are hugely important.
Wholesale
Many wholesalers will produce, import or grow their products to on-sell to businesses to retail the goods to customers.
Accentis Enterprise and Petite Waffles
Food manufacturer Josh Magnus recommends Accentis Enterprise for Accounting, Inventory, Manufacturing, Payroll and many other aspects of his business. For more information on how we can improve your business management, contact us.

Industry leader forges ahead
Background
The Mass Electronics group of companies, including Innotech Controls, has been manufacturing control system products for over 20 years and is an industry leader in the field. The Innotech range of products is diverse – ranging from Electronic Control Systems to more complex processes and BMS applications. With over 70 employees, a parts inventory of 12,000 and finished products handled by 20 distributors in 15 countries, it was critical that the right ERP system for their business was implemented. Throughout its growth phases, Innotech has picked up numerous awards along the way including the AIRAH National Award For Excellence and Telstra Small Business Awards while also gaining recognition for outstanding achievements by Queensland Top 400.
The challenge
Like most small businesses, Innotech originally stitched together a number of software packages to handle the daily operations. When the company's growth took off, it soon became apparent that a more integrated system was required. Innotech's managing director, Steve Miranda recounts a typical problem they came up against. "We just couldn't find any other software that was feature rich and provided live data, at the right price point and that could actually do what we wanted. Accentis also solved the way we wanted to run our group of businesses, as separate profit centres but with consolidated accounts reporting.
The solution
With over 50 users accessing the system at any one time, it was important the software was easy to use and allowed staff to process their workload in the fewest steps possible.
"Two aspects we were also concerned with was reliability and speed. Accentis has more than shown it's robustness – we have millions of transactions in our database and we've never lost data or had a file corruption" according to Steve Miranda. In relation to speed of data access, Innotech's sales manager Paul O'Connor stated "Accentis can give us a full trading analysis report for every customer from eight years of history in under 3 seconds. So, not only do we get the answers we want, we get them almost instantaneously and in a format we want.
When asked if Innotech could quantify the financial gains of the system Steve Miranda said "we believe the overhead cost reductions were in the order of 25-30% annually in the first 2 years of using Accentis. Regarding the daily operations, Accentis is so integral to the business now that it even controls the workflow starting with the design team's CAD files right through to initialising the Yamaha surface mount "pick and place" machines. The Accentis inventory system stores data taken directly from the product CAD designs. This data is then converted to machine code which is used for the placement of components on circuit boards. Initiating a manufacturing run of a complex product is as easy as clicking a button on the Work Order screen.
According to Steve Miranda "working with Accentis has helped push us to a much higher level of efficiency. Accentis also allows us to see all our performance indicators at a glance.. oh, and did I mention the software has not failed us once since the original installation in 1999".
Steve Miranda