Electronics Manufacturing
Accentis Enterprise is widely regarded as one of Australia's best overall Electronics Manufacturing ERP solutions for small to medium businesses.
Electronics Manufacturing Software
If your business needs electronics manufacturing software, you need a program that was developed to handle the intricate nature of the business itself in regards to the management of small parts, manufacturing and financial control.
Accentis Enterprise was designed with attention to detail to provide a state-of-the-art ERP software solution that includes a robust MRP manufacturing system, with all other financial and business modules fully-integrated to complete the business needs.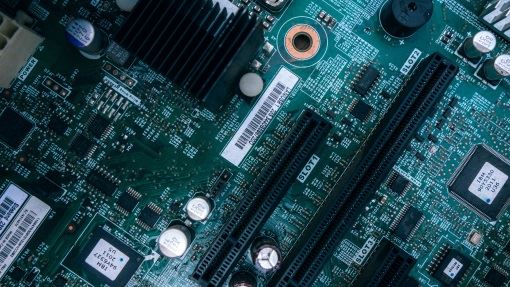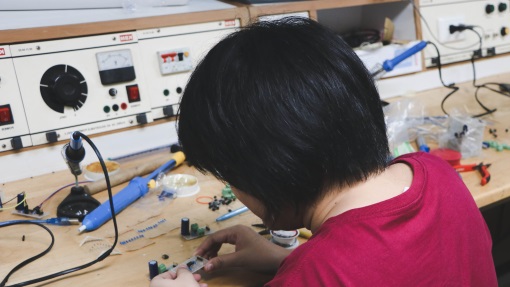 Electronics Manufacturing Heritage
Accentis Enterprise had its inception within one of Queensland's top privately-owned microelectronics manufacturing companies.  Mass Electronics is a leader in the design and manufacture of analogue and digital environmental control and measurement equipment. Like many companies, as Mass Electronics grew and enjoyed a high degree of commercial success it became increasingly burdened by an inadequate and disparate collection of software programs to run its business.
After recognising the need for a complete, integrated business management system that would also satisfy the particular needs of a manufacturing operation such as Mass Electronics, Accentis embarked on a complete redevelopment of its existing software. Our mission was to produce a world-class, multi-user, fully-integrated enterprise management solution that not only outperformed other accounting systems but also incorporated a fully-functional manufacturing subsystem perfectly adapted to handle the specific needs of this industry.
Powerful Inventory
With the large quantity of different components and materials used in the electronics manufacturing, it is imperative that inventory management is efficient, comprehensive and easy to use.  Accentis Enterprise supports an unlimited number of different inventory parts including kit items having unlimited levels of sub-assemblies (BOM). It is not uncommon for Accentis customers to maintain over 50,000 part codes – any of which can be accessed or analysed with lightening speed.
Product Approvals
Accentis Enterprise helps you maintain a record of product approvals for your own products that you manufacture as well as your raw materials. For local and international standards such as UL, CE, C-Tick or even ROHS compliance, you can easily track the standard to which products conform and only select appropriate raw materials for building certain products.  Any products that have been approved within Accentis Enterprise cannot be modified in any way without special administrative permissions.
Version Management
The single most important feature in a good manufacturing system is the ability to record and manage multiple versions of kits (Bill of Materials).  Accentis Enterprise is the leader in this area and supports full version management on every assembly with the ability to build any specified versions of a product.  Any change to an assembly's bill of materials is tracked and stamped with either a user-defined or auto-assigned version number, while a free-text notation indicating why the change was made can also be added.
Advanced Purchasing
Support for unlimited number of suppliers per part, with each supplier assigned a relative ranking from most least preferred.  Each supplier for a part can store the supplier's part code and description so that purchase orders can be printed using the supplier's own codes, saving precious time when ordering. Multiple units of measure for each supplier-part combination allow parts to be ordered by any unit (e.g. a reel, roll, box or tube) and a price and quantity conversion factor for each unit to be specified.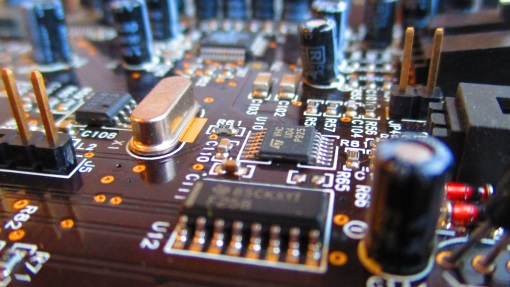 Manufacturing Management
The heart of the manufacturing system in Accentis Enterprise is the Work order which is created to build a specified quantity of an assembly from raw materials or sub-assemblies. 
Partial builds allow you to start building without components in stock

Flexible modification of Bill of materials during Work Order stage

Complete repairs facility to record issues and prevent future problems

Schedule control of employees displays who is working on what job

BoM requirements with advanced date management functionality

Track multiple work orders through each stage of progress
Complete Inventory Control
To allow full control of all stock items in various states, a thorough and advanced inventory system needs many capable features to give enhanced flexibility. Accentis Enterprise provides a functional, but well-advanced solution to counter any issues and keep Inventory management under complete control.
Maintain multiple warehouses throughout the business to reflect not only physical locations, but allows for the creation of virtual warehouses for component collections. These could be delegated as raw materials warehouse, production warehouse, quarantine warehouse and finished products or sales warehouse.
Each warehouse can function as a full-featured warehouse, capable of streamlining business requirements to enhance production processes and costs. With the ability to record almost every aspect of the product and components through production, there's great tracking capabilities to minimise inventory loss.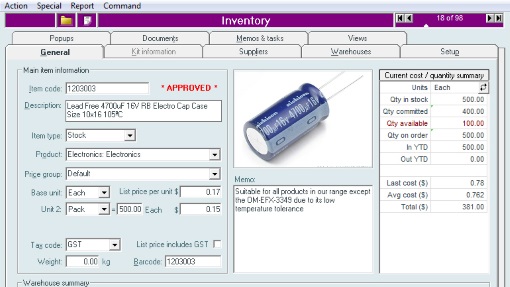 Electronics, microelectronics and controls features
Export data to SMD pick & place machines
Product approvals register UL, CE, C-Tick & ROHS
Multiple warehouse with MOQ, MHQ & ROQ
Serial and batch tracking
Multiple suppliers with ranking and parts codes
BoM version/revision comparison tool
Scheduled deliveries for purchases and sales
Extremely powerful reporting capabilties
Purchase order quotations
Automated landed cost calculations
Powerful requirements and usage analysis
Partial builds, un-build, special builds
Advanced electronic document linking
Effortless editing and sorting of data