Accentis Enterprise Electronics ERP System
Is your business part of the electronics manufacturing industry?
As an industry that deals with very small components in large quantities, it needs to be controlled in a variety of ways. This might include inventory, warehouse management, manufacturing, financial and time and attendance.
You may print circuit boards (PCBs) and need to solder the components on.
Do you have full control of the process from start to finish?
Electronics manufacturing can be highly technical because of the tools and machines required to perform tasks at hand.
Each component is an important piece of a much larger puzzle. Making sure these components are tracked from purchase through to the end-user is paramount. If a product must be recalled for any reason, traceability is key!
An ERP system, such as Accentis Enterprise, gives your business the freedom to perform these tasks and improve procedures on the fly. You can also run reports and diagnostics on your business to ensure standards are met and outcomes are achieved.
Electronic Manufacturing Presents a Challenge
Searching for an electronics ERP system was a challenge for Mass Electronics. However, Accentis Enterprise was able to offer an ERP solution that gave the results they needed.
Mass Electronics group gave Accentis Enterprise a chance to prove it was the best ERP system for small-to-medium businesses in demanding industries.
We are proud to say that we not only accepted the challenge, we faced it and succeeded in more ways than one.
Working on the challenge with Mass by our side was both exciting and difficult. It was the common goal of achieving success that made any bumps in the road a minor distraction.
Mass Electronics Group
Mass Electronics group, including Innotech Controls, create and maintain a wide variety of products.
As manufacturers of control system products for almost 35 years, Mass is truly an industry leader.
The company have grown in both turnover and staff, including a solid research and development team. Mass needed a vital software solution to continue their work and business growth.
Having Accentis Enterprise helped to grow the business whilst saving it money at the same time.
Mass Electronics and Accentis Enterprise
One main reason Mass was happy to use Accentis Enterprise was our ability to offer exceptional speed and reliability. We backed this up with a robustness they could count on across their entire database.
As a manufacturing business of many years, Mass accumulated millions of transactions in their database. This created a bottle-neck of processes that slowed the company down. Accentis Enterprise offered respite that not every software product can satisfy.
Accentis Enterprise has gladly justified the hype by providing Mass with an electronics ERP system that goes above and beyond expectations.
Mass was looking for a software change that stemmed from having multiple software products running their daily operations. This is common for many small-to-medium businesses.
For a growing company, the need for an integrated solution is apparent. Instead of using multiple software products that create a clunky workflow, Accentis Enterprise offers seamless data sharing between modules.
Some of the many features and improvements an electronics ERP system provides include:
Cost reductions in business overheads due to improved efficiency
Workflow control of CAD files right through to initialisation of surface mount "pick and place" machines
Inventory product data stored directly from CAD designs
Data conversion, which enables placement of components on circuit boards
One-click manufacturing run on a configured work order
Conclusion
Is your business at a stage where an electronics ERP system could benefit?
If so, it's time for you to consider Accentis Enterprise as your ERP solution.
Our experience and knowledge can offer solutions you might not even know are possible. With these solutions, you can get on with manufacturing and running your business instead of dealing with constant administration issues.
Our implementation at Mass Electronics was a long time ago. We're proud to still count them as a valued client — as we are for all our clients!
As a manufacturer, what are you using to manage your business right now? Imagine the value in changing to a complete ERP solution that offers a fully-integrated solution.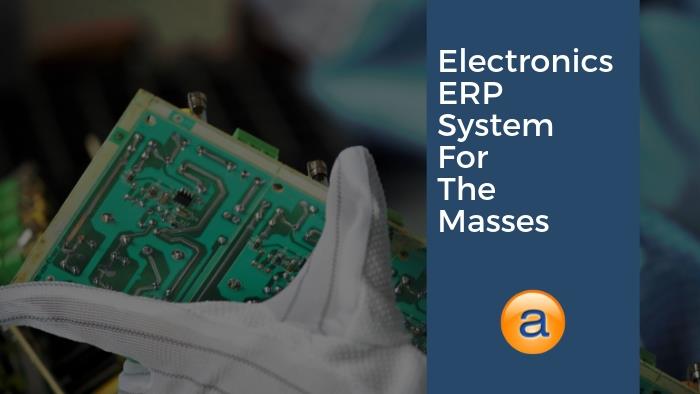 Are you ready to make more money for your business?
Click here to start your journey today!