Do I need Business Management Software?
Let's face it, if you weren't already a growing small business, you wouldn't need business management software.
Or would you?
Here's the truth: A small business will always need some sort of business management software to enable more efficient growth than if they didn't have it.
If you run a small business that uses something like MYOB or Xero, you're already using business management software.
If you also use Excel spreadsheets, emails and manual or software recorded timesheets, then you definitely need a better software solution, which combines all these tasks, and many more, into a single system, effortlessly.
How does a Business Accumulate Software?
It's easy to accumulate small business software with free or low-cost options being the norm until you reach a certain number of users.
Increasing sales, support and supply issues add stress to an already stretched admin team.
Such stress leads either to another piece of software to fix a single problem or, worse, to hiring more employees to cope with the workload.
This is money you shouldn't have to spend.
What seems at first like a great way to manage your small business soon becomes insupportable for several reasons:
You need to upgrade to a paying subscription for the software you use

Integration

is a nightmare, and imports and exports are required each week
Employees spend time duplicating data across products
You need to hire new employees to keep up with added software demands
These are the sorts of issues that can stop a small business from growing into a more prosperous company. Accentis Enterprise is Australian ERP software designed for your business!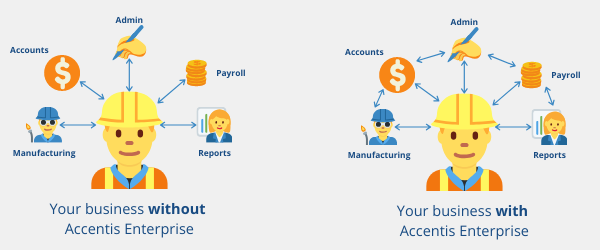 Is the Solution to Hire More Employees?
What if, instead of hiring a new staff member, you put that budget into a software solution that combines all your small business software products into one fully-integrated solution, saving you money instantly?
It's not only possible, it's here right now.
Accentis Enterprise is an ERP system for small business operators who need to grow without the expense of moving to a cloud-based subscription platform designed for big businesses with features you might never need.
We can assist by providing some ROI numbers to show how the right software can save you time and money.
What Does Accentis Enterprise Offer Small Business?
Accentis offers the ability to combine General Ledger Accounting, Payroll and HR, Supply Chain Management (SCM), Manufacturing (MRP), Job Costing and Timesheet solutions into one system.
If you need a Customer Relationship Manager (CRM), it's included.
Recording your Fixed Asset and depreciation is something we can do with our eyes closed.
Inventory and Stock Control issues become a thing of the past with our complete system encompassing warehouses, stock bins, batch management and more.
Conclusion
Accentis Enterprise is the best small business ERP system available simply because that's who it was designed for. It's who we are.
We use Accentis Enterprise daily for the same reason you should, because it works.
The future of your business is in your hands. We just want to help you get there!
What will the future of your business look like if you don't start managing it with a better software solution?

Contact us to find out!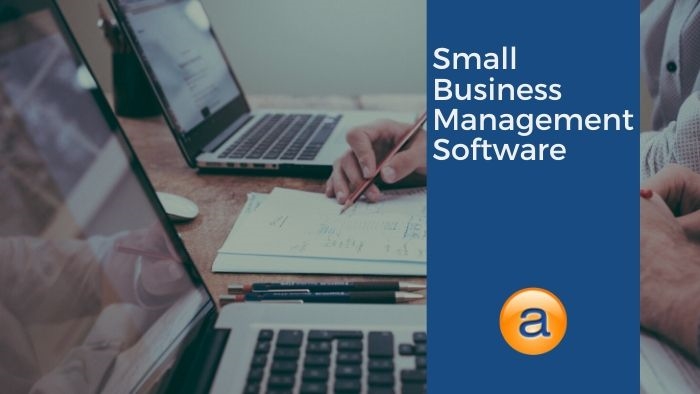 Are you ready to make more money for your business?
Click here to start your journey today!