Common Acronyms used within Australian Business
Are you an Australian business, SMB or SME looking for an ERP to help with ROI and KPI, but your BI is not up to scratch?
If you have no idea what we're talking about, read on and we'll try to help you with some of the more common terms used in Australian business.
Who knows? Maybe you're in need of an MRP or SCM and need an SLA before you can even look into it!
SMB
Small to Medium Business.
Closely related to SME, this is simply a way to describe smaller businesses.
SME
Small to Medium Enterprise.
Essentially the same as above. It's just shorthand for Enterprise.
ERP
A software program that allows a business to consolidate multiple software products into a single solution, saving time and money while increasing business efficiency.
ROI
Return on Investment.
Usually expressed as a percentage.
Used to measure the efficiency or result of buying a business product or service, and the value or profit it gives the business over and above what you would have without it.
ROI is something used to forecast a business purchase within a budget to see if it is something worth following through.
KPI
Key Performance Indicators.
When a business wants to attain a goal or goals, there needs to be way to measure the success or failure of meeting them.
KPI's are the measurement tools that determine the results.
SLA
Service Level Agreement.
A formal document that outlines the expectations of the customer against the deliverables of the service and the product the supplier is providing.
It will usually include several KPIs (see, they get used!), so the customer can calculate the ROI (and again!) to ensure both parties can monitor the progress of the transaction.
SCM
Many Australian manufacturers and producers will supply their goods to multiple wholesale or retail outlets with specific requirements placed on them.
These requirements can include dates, transport and time frames, as well as the legalities of the Australian Government, which require some businesses to meet certain standards depending on their industry or product.
An SCM allows businesses to track their product from the purchase of raw or wholesale materials through to shipping, delivery and return of goods.
MRP
Manufacturing Resource Planning.
MRP is also MRP II, as it's the successor to Material Resource Planning, but is now commonly referred to as MRP.
Used for the manufacturing industry, it encompasses a wide range of functionality including job costing, forecasting, project management and financial management.
Sometimes used without an ERP, it is included as a module with Accentis Enterprise to give any Australian business a complete enterprise solution.
HR
Despite what many of us think, HR is not always associated with ERP, but it needs to be included as part of the accounting section because it relates to payroll and the general ledger.
CRM
Customer Relationship Management.
A facility for managing all contact with customers throughout the sales process, from collecting leads, generating quotes, purchase orders and sales through to after-sales support.
It allows for a complete record of the customer and their purchases and gives you better marketing value.
Can be referred to also as CMS or Customer Management System, but this is infrequently used.
GL
The general ledger is the most common accounting system throughout the world, not just for Australian business.
It features Accounts Payable and Accounts Receivable and, within Accentis Enterprise, is very powerful because of our all open periods design, which means no monthly rollover.
This includes the very latest in Single Touch Payroll requirements for all businesses within Australia, as well as functionality for New Zealand and other locations as required.
T&A
Time and Attendance is used to record employees who attend the workplace to perform their jobs, and how much time they spend doing it.
This information is then usually shared to Payroll and other functions to pay the employees for the time worked, and to run business reports.
PP&E
Plant, Property and Equipment.
More commonly known as Fixed Asset Management (FAM) or Enterprise Asset Management (EAM).
This facility records the value of your working machinery and tools —that is, the physical assets a business owns to do the work required.
Accentis includes full depreciation control and allows for assets to be easily managed throughout their lifetime.
BI
Many companies will utilise business intelligence (more commonly known as Reports) to analyse their business and track performance.
Accentis Enterprise, for example, contains over 600 reports as standard for advanced BI. However, we also write custom reports specific to our clients' businesses, so they can get the data they need in the format they require.
WBS
Work Breakdown Structure, also known as Work Orders or Project Management.
This function relates mostly to manufacturing, but it is utilised in many Australian business industries.
It breaks down the processes and procedures into manageable sections, and allows for estimations, budgets and for the forecasting of both financial and material requirements.
It ensures processes are followed for consistency of product by running checks at various stages. It can also be combined with multiple WBS processes to form a single product.
WMS
A Warehouse Management System is supplementary to an Inventory Management and Stock Control System.
A WMS will allow for the picking and packing of items ready to be shipped across multiple locations, including those within the same building but in a different plot or shelf location.
EBA
Enterprise Bargaining Agreement.
This is an agreement between Employers and Employees, along with their representatives such as unions.
They are usually negotiated on the terms of employment and the project, activity, outcome and expectations of each party that will be involved.
LAN
A network accessed by both Ethernet and Wi-Fi in a limited area such as workplace offices, buildings, home and more.
A LAN does not need an internet connection to be functional, as the network can be internal only, allowing computers to speak to each other locally only.
Conclusion
These are just some of the many acronyms used in Australian businesses every day.
It's not a complete list. There are hundreds of niche and industry specific examples that different companies use.
If you're looking to find out what HACCP, ISO, AS and NATA mean, our Accreditations and Certifications post is a must-read!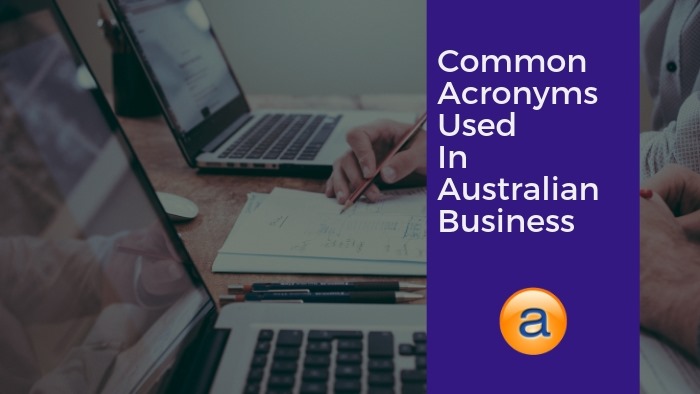 Are you ready to make more money for your business?
Click here to start your journey today!