ERP Manufacturing Software Australia
Manufacturing software designed specifically for your business can be hard to find. Accentis Enterprise is an ERP solution with a complete and fully-integrated MRP module to make the decision easy.
Let's talk more about us.
Our business began in a manufacturing plant specialising in micro-electronic components that required a feature-rich software solution. Accentis Enterprise has now grown to be a true ERP system, encompassing many industry and business-related products.
Developed and supported in Queensland, Australia and based in the Brisbane suburb of Nundah, Accentis Enterprise is well established. During this time, we have been making a name in the manufacturing industry, especially for those seeking a robust ERP system.
Accentis Enterprise includes many features not often available to small-to-medium businesses without significant costs. Features such as HRM, MRP, CRM, SCM and WMS offer a complete ERP solution for all manufacturers across a variety of industries.
Accentis Enterprise Manufacturing History
Accentis Enterprise was initially conceived as an all-encompassing business management software solution to replace outdated software. Working closely with one of our clients allowed us a unique opportunity to capitalise on actual business requirements.
Many years of development later, after working hands-on in companies with annual turnovers exceeding $20M, our business of a simple yet powerful ERP system emerged — one that could handle all aspects of a business including manufacturing, Payroll and HR, Fixed Asset Management and Job Costing or Project Management.
Our software solution out-performs many of the other comparable products we compete against. Our growth is determined by our ability to include such powerful features as inventory and more.
Accentis Enterprise now helps many other businesses grow within a huge range of industry sectors that demand an improvement in business management software.
Small-to-medium businesses no longer need to spend more than their budget allows. Accentis Enterprise ERP is a business management solution with features they need and will use.
Manufacturing ERP or MRP
Manufacturing software (MRP or MRPII) is required not only for a single industry but for a varied range of industries. Some of our clients are involved in everything from electrical components to food production, plastic moulding, metal fabrication and more.
We deliver software built on the experiences and requests of our clients to benefit manufacturers. Many of our clients were unsure they needed an ERP solution and were looking only for an MRP capable system. After consulting with our specialists, they were able to see the value in what we offered.
Some of our very first clients are manufacture-oriented in diverse industries. This allowed us to gain business insights we still lean on today.
MASS design and manufacture a range of products utilised in several different applications.
By utilising the features within Accentis Enterprise, they have managed to save time, improve production and, more importantly, save money to invest in other projects. Since implementing Accentis ERP, the positive effect on the business has been proven again and again.
Accentis Enterprise and PWR
Another example is PWR Performance Products, for instance, a manufacturer of cooling solutions for some of the most demanding clients throughout the world, including Red Bull F1 Racing, NASCAR, Porsche and Aston Martin.
PWR Performance Products needed an equally powerful software solution to help manage their manufacturing business and to expand it.
Accentis Enterprise provided them with the manufacturing software they needed, coupled with the integrated financial, payroll, inventory and control software they required.
Not only that, the ability and flexibility of maintaining quality control documents for ISO certification was a much-welcomed efficiency gain.
PWR Performance Products continues to grow and reach new heights thanks in part to Accentis Enterprise. We can't take all the credit, but we are proud of the part we play in their business to date.
PWR Performance Products are a global company with offices in other time zones and currencies. They required information represented correctly in key areas, specifically sales budgets and stock control.
Accentis Enterprise allows PWR complete business control from all angles, making it easier to satisfy their customers worldwide.
Conclusion
It doesn't matter what kind of item you manufacture. If you can design it, build it, create it and sell it, we can help you record it and grow your business.
Accentis Enterprise supports multiple industries and helps to achieve and maintain industry standards. We love watching other businesses succeed and grow because our solution helped them achieve their goals.
Being able to manage your business efficiently is good, but Accentis enterprise can help you take on the world!
What features are you looking for in Manufacturing ERP Software that we can help with right now?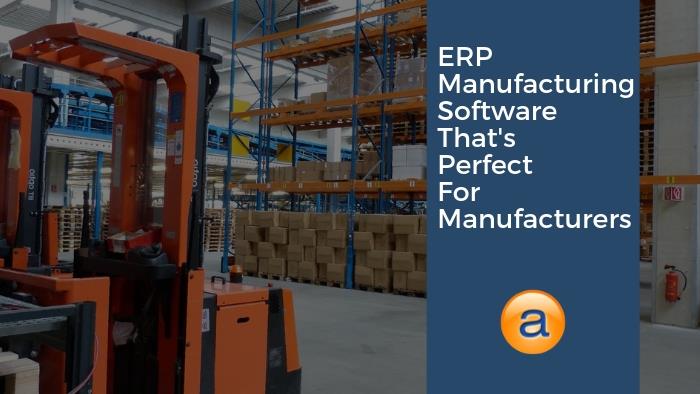 Are you ready to make more money for your business?
Click here to start your journey today!