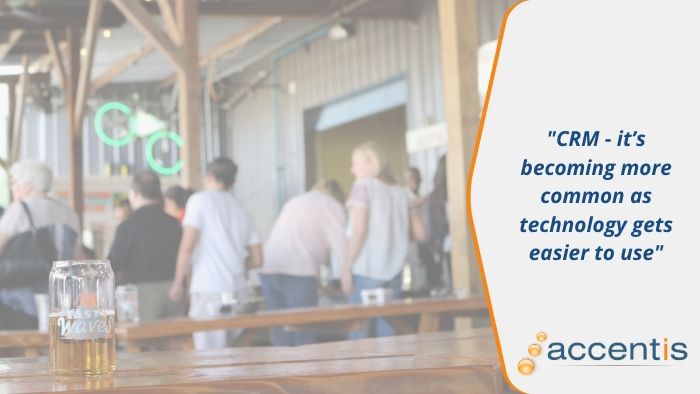 What is CRM software?
CRM software is the abbreviation of the business term Customer Relationship Management software. 
What was once the domain of address books full of contacts is now a complete suite of features to help give you insights on your customers. It's designed to enable better customer transactions through the sales and support life-cycle with your business. 
The benefits come through building relationships, recording of information and having it all collated into a single module, usually within a larger product of an ERP solution. 
Detailed information about the entire customer journey can help streamline support, increase sales and provide a solid base of contacts to nurture through marketing. It allows you to easily view details about your clients, and to quickly take action to help them or offer new products.
Like all other business tools however, a CRM is only worthwhile if it's used for its intended purpose. A good CRM system will be something that all staff use for each interaction with a customer or client, recording details of conversations, meetings, emails, documents, sales and more.

Why do I need CRM software?
Not every business needs a CRM component to manage their customers, but it's becoming more common as technology gets easier to use. With the large intake of online shopping, every time you fill out your details for a purchase, it's added to the company's CRM solution. 
We're still a while away from every business using a CRM, but even small ventures now will offer loyalty cards and more to get your data. It is an important tool for businesses of any size. 
There's often misconceptions around CRM software: 
My business isn't big enough to warrant a CRM

I don't have the time to record all the details I need to

A CRM will only make more work for me
Any business that already records customer data in some form is ready for a CRM system. 
Remember the old cork board covered in business cards, or the folder stored on your desk? That's a rudimentary CRM solution you've already started. 
No doubt some of the business software you already use will have some form of recording customer data. A CRM system will expand on this data to deliver more results. 
How long can you go writing notes on a business card, or adding random information to the only field you can fill in on your software tool? Not very long, especially if you want to grow. 
It's easy to be lulled into CRM software at the promise of it being free for 3 users, but as you grow, you'll need more. Some systems will only allow you to store a maximum number of contacts, and when you reach a certain level, you're expected to pay. 
Subscribing to these services locks you in as you slowly grow your business, costing you more and more each month until soon you don't even realise how much you're spending. 
How long will you keep using a CRM that doesn't integrate to your other business software?

CRM Software module in Accentis Enterprise
Fully integrated to other modules
Out of the box, the CRM software module in Accentis Enterprise is ready to work with every other module. Data saved against any customer can be utilised right away. 
Pull up invoices for specific customers or check their entire purchase history

Have all the notes from the project manager on one of your jobs recorded and accessible in the one place, saving you valuable time every day

Run detailed reports and analysis and add custom fields as needed specific to your business
The information you save can be used to make future decisions on how to pivot, market or grow the business based on factual customer data.
Contact information management
The power of using customer data to help your business grow relies on the information you save. Names, emails, phone numbers are all standard information that you might need. 
How about other fields that you haven't thought of? 
Where most CRM systems fall short, is actually one of the "features" they continually push. A large number of fields on multiple tabs for you to store information.
Let me tell you why this is a detriment! 
In their haste to grab as much data as possible and present it to you about your customers, it's become cumbersome and confusing. Do you even know what data you should be collecting and why? 
Accentis Enterprise is built to be customised by the requirements of each business. We're not going to add 500 fields for you to try and decipher and mould into something that suits you. We're going to give you the exact fields to record exactly what you want to know. 
All of the fields that you want added to your form can be used in reporting, giving you a clear picture of what your customers want. 

Unlimited electronic document management, memos and tasks
Are you in the business of making custom items designed by a third-party and sent to you to manufacture and assemble for your customer? This kind of detail needs to be recorded against the contact for use in the future in CRM software. 
With an unlimited number of electronic documents saved to a contact, you can easily refer back to them when the customer wants another one as a replacement or spare. 
Save building plans with measurements, email attachments, pictures and more, all stored ready for quick reference throughout the program for that contact. 
There's more information to be stored than simple contact details and email attachments.
Memos and tasks allow you to keep notes on every interaction you have with your customers, and set tasks to ensure you don't forget a process you need to complete. 
Record in-depth information of phone calls, meetings, and create tasks to follow-up with information or advice, either recurring or not. 

Sales and lead management
Once you've created a contact record, they can be used for all the sales requirements you create for them. 
Start by linking a contact to your sales enquiries, quotations and orders, and when they've purchased, add them to the customer record. Add as many contacts as you like to a customer record. 
Using the contact record, you can trace where they are on their buying journey, and what you need to do to get them to purchase. This feature will allow you to see which customers are warm and likely to buy, and which are cold and may need further nurturing. 
This allows your sales department to focus on the right leads at the right team, making the process both productive and efficient. 
Enquiries, quotes and orders
Being able to centralise all contact information through each of your business processes saves time and keeps valuable records. 
Depending on your business process, you might use none, or all of these features in your CRM software. 
Sales enquiries are that first encounter with a potential customer, giving you a lead to trace. From here, depending on your business and the processes, you can create a customer, or send a quote. 
Maybe your business needs heavy negotiation and a sale can be many months in the making. Being able to record each enquiry, quote and order (or lack of) gives you the ability to quickly react to each buyer's need. 
Keep abreast of where your customers are in the sales funnel and improve on your sales process.

Forecasting future sales
With a solid history of reporting every aspect of sales and enquiries, you can forecast easily what you expect to come in the future. 
If your business relies on the seasons, say for a horticultural business, you might be more aware of not only when your products sell more, but when more enquiries are usually coming to your business. 
Planning for these types of interactions gives you the upper hand in dealing with things as they come up. Forecasting allows you to focus on what you expect to happen, and make it much more worthwhile. 
Reporting and analysis
All of this information is only worthwhile if you look at it and use it! 
Powerful reporting not only gives you the ability to forecast the future, but also to review the previous period and make decisions. 
In Accentis Enterprise there are some 800+ standard reports with 1000's of different combinations to give you a clear picture of your business. Another standout feature however is the customised reporting capabilities. 
As with the customised fields you've created to record contact information, you need to report and analyse how they're working for you. We can easily create the report that you need, reporting on the facts important to your business. 
Conclusion
The power of CRM software can't be overstated. The most successful businesses in the world now are customer focused and have an obsession with knowing all they can about their customers!
The more you know about your customers and how they interact with your business, the more focused and successful you will be. 
Australian SMEs in manufacturing, wholesaling, distribution and service industries can all make use of a solid customer relationship management system. 
By offering customisation to record and report on exactly what your business does, instead of offering you 500 fields of which you only use 150, Accentis Enterprise gives you what you need. 
More than just a CRM solution, Accentis Enterprise is fully-integrated Australian ERP software powering many small to medium businesses. 
When your CRM software is deeply linked to your accounts and financials, manufacturing, inventory and job costing, your business information is right there for the taking. Coupled with the strong business features of payroll, time and attendance, asset management and SCM, you're ready to grow. 
If you want to see how Accentis Enterprise ERP can work for your business, download our free eBook, no strings attached! 
Contact us now before it's too late and have someone answer your questions directly on how Accentis Enterprise can help your business grow.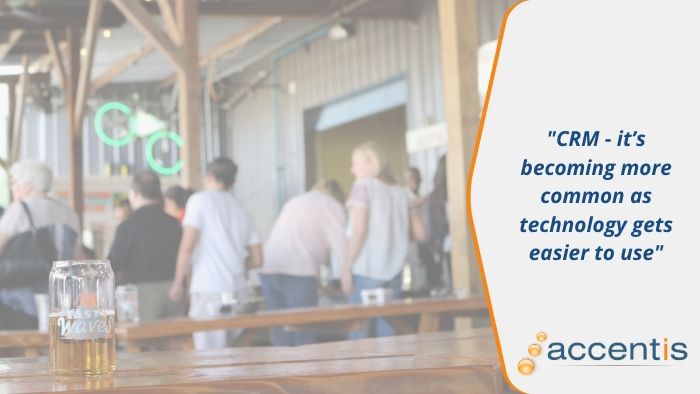 Are you ready to make more money for your business?
Click here to start your journey today!