Tax Scales 2018
When was the last time that you checked if your Tax Scales for 2018/2019 were up to date in your accounting software?
Tax Scales, Tax Rates or Tax Tables are released by the government periodically to ensure that you tax your employees the correct amount during a pay run.
It's important to keep these updated so your employees are not hit with a sudden tax deficit at the end of the year, or that you as a business incur penalties from the government.
Does Your Software Warn You?
Accentis does!
Let's face it, if your accounting software handles such an important aspect of your business, you want it to be correct, especially with tax rates.
Small business accounting software the doesn't give you a heads up when changes have been made is pretty slack to be quite blunt.
Accentis Provides Tax Scales FREE!
There's not that much you get for FREE anymore, but it's something that we consider to be so important, it really should be.
While some accounting solutions will tell you where to get the new rates from, Accentis Enterprise takes a proactive approach.
Here's what you get from Accentis when new Tax Scales are released:
You will receive an email before
Your email contains a link to a simple 2-click process to import them directly into Accentis
You'll get a warning if you attempt to process a pay run with tax scales that are out of date
We'll show you the "effective to" date for all tax rates
You get them for FREE, even if you aren't on our maintenance plan as part of incredible customer service
Can your current accounting software beat service like that?
Conclusion
It doesn't matter if you call them tax scales, tax rates or even tax tables, we'll make sure that you have the latest and greatest (is tax ever really great?) in your Accentis Enterprise software.
If your general ledger accounting product is not Accentis, and you want it to be, what's stopping you?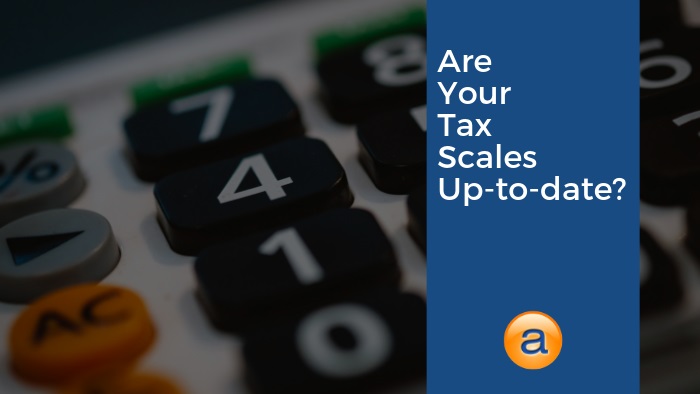 Are you ready to make more money for your business?
Click here to start your journey today!