How to Implement an ERP System
Maybe your business is running along fine, but you need to upgrade your software to something more powerful.
You want to implement this new solution, make sure the changeover is done properly and ensure no data is lost whilst also maintaining your business.
You've bitten the bullet and decided to run an ERP system such as Accentis Enterprise.
Now the fun really begins!
Is Implementing an ERP System Easy?
You're not a new business, having grown in size, and you may already use some sort of software to manage your current processes.
How are we going to get your data out of where it is and into Accentis Enterprise?
Luckily for you, we've done this a few times before — hundreds of times actually!
We've managed to whittle the implementation process down to 7 simple steps, each with their own requirements, time-frames and responsibilities.
One thing we have learned over time is that every business is unique. The plan is never the same twice, so that's why we have a checklist to make sure we get everything done properly.
We're here to help the entire time, but we don't know your business like you do.
Because of that, we will ask a lot of questions to help create a better plan and to help you understand what's involved.
Some of them will be a simple yes-or-no questions, whereas others will require some discussion, information and additional material.
We'll step you through each process to make it as easy as possible, so you can start enjoying the benefits of Accentis Enterprise properly.
The 7 Steps to Implementing an ERP System
Preparation and clarification of requirements
Software installation and commissioning
Data conversion and import from existing system
Database commissioning and setup
Report customisations
Training, testing and live trials
Going live with Accentis Enterprise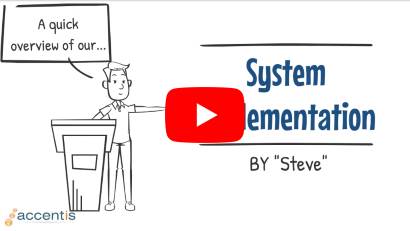 Who Needs to be Involved in Implementing the ERP?
There's a lot that needs to go into those 7 steps to make an implementation successful, but many people before you have carefully thought out each step, so we're confident in what we do.
One of the biggest issues with implementation can be staff knowledge.
To help us get the data we need into Accentis Enterprise, it's important that the right people are involved from the outset. That way we can train them in the right areas.
You don't want to train the truck driver who only makes deliveries for your company in how to pay all your employees, do you?
We wouldn't expect the payroll clerk to know how long it takes to make a circuit board for a TV.
Each staff member in your business is employed to do their job well and knowing who does what will help us deliver a better solution at the end of the day.
Implementing an ERP System Takes Too Long
There's no immediate hurry to implement enterprise software just because someone is going on holidays and things need to be done before they go on leave.
This can produce many problems that get harder and harder to fix as time goes on.
Accentis Enterprise makes your business easier to manage. We don't want to complicate things by cutting corners.
Throughout the entire implementation process, you will have a representative from Accentis to help with your implementation. They are committed to giving you the best possible outcome and service.
We believe in our product and use it every day for the management of our business, so we're adept at adapting to how your business operates and what it requires.
Conclusion
Implementing an ERP system is not a small task and shouldn't be rushed, regardless of how easy you think your business is to run.
What's possible for one business may not be possible for yours.
Accentis Enterprise is highly customisable and can be configured in many varied and helpful ways to ensure your business runs smoother than before.
Have you got any reasons why you can't implement an ERP System from Accentis?
Are you ready to make more money for your business?
Click here to start your journey today!