Here are the Top 5 Small Business Management Hacks
Improve your business software
Automate repetitive tasks and procedures
Value reports and data
Assess permissions for access
Consult with other businesses
Small Business Management Hack #1 – Improve your business software
It's almost a misnomer, but these days, software is so easy to come by that we just keep adding app after app until one day it just can't be managed any more.
Instead of downloading a new piece of software that only performs a single job within your business, like a CRM, why not take a step back and look at what your business really needs.
Can you afford to get some new software that everyone will have to learn to use properly, or worse yet, can only be used by up to 10 users before you need to pay a subscription?
Your business software shouldn't control you or your business, but complement it.
If you're not in control of your business software, then what's controlling your business?
Small Business Management Hack #2 – Automate repetitive tasks and procedures
This issue is one of the biggest time wasters in modern business today.
A famous programmer once said "I do it once. If I have to do it again, I write a program to do it every other time after that".
Your business is wasting time if staff are performing the same tasks and procedures on a daily basis that are able to be automated.
This might be because of something simple like printing address labels out as soon as the order has been placed, rather than having to select the printer manually each time.
Maybe things are more involved and you would like to produce a video to train your customers how to use your product, instead of having to go through the process every time they call.
Automation can save time and money.
Small Business Management Hack #3 – Value reports and data
There's no question that reports have the ability to improve your business, if you know what you're reading.
If you are using multiple software products, you probably have data and reports from multiple sources.
If that's not bad enough, you're probably adding the data into a secondary program like Excel spreadsheets just to be able to get the overall picture.
There is an easier way!
Take advantage of a fully-integrated software solution that does it all for you.
As a bonus, a single solution should easily be able to allow for the attachment of any additional documents that you need to keep with your consolidated data.
Accentis Enterprise has a fantastic ability to save as much data as you need.
Small Business Management Hack #4 – Assess permissions for access
With multiple software products, setting up and configuring which employee has access to which data can be a nightmare.
For employees to be able to do their job properly, sometimes without added distractions, it's necessary to keep data away from their ability to access.
Not only will removing employee access from some services solve your security issues, but it can help to streamline the work an employee has to do.
Staff don't need to have multiple logins to access multiple software products and waste time logging in and out of different services.
Minimal access will maximise security for your entire business, because there are fewer access points to valuable data.
Small Business Management Hack #5 – Consult with other businesses
One easy way to find out the best way to approach making changes, is to talk to other business owners and managers.
Take advantage of the experiences, both good and bad, that they have already had, and use these to make an informed decision about the best way to move forward.
Accentis consults daily with a multitude of businesses across a large range of industry sectors, helping them to make the most of their business management software.
Despite the many and varied businesses that are around these days, most of them have similar data requirements and procedures, so it's all about learning how best to manage them all in an easy manner.
Accentis Enterprise uses very familiar terminology within the program so you can easily transition from many software products to a single software solution.
In conclusion…
We've shown 5 of the best small business management hacks to put you on the right track to making your business run smoother and more efficiently.
Accentis Enterprise helps any business hack their way to a better solution from the conglomerate mess that you might be dealing with right now to a fresh single solution, and it's easier to change than you might think.
What hacks have you got that can help a small business to improve how they manage their business?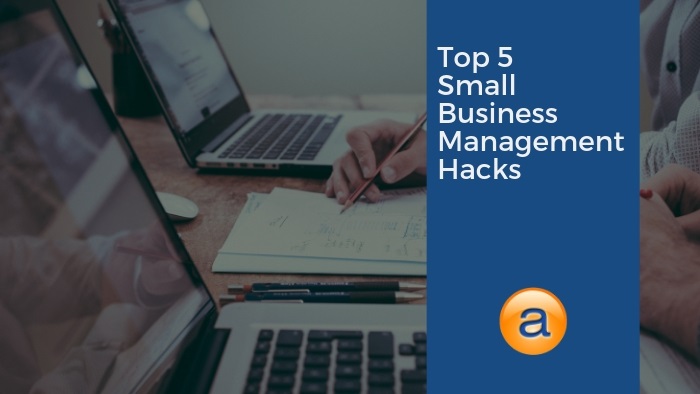 Are you ready to make more money for your business?
Click here to start your journey today!