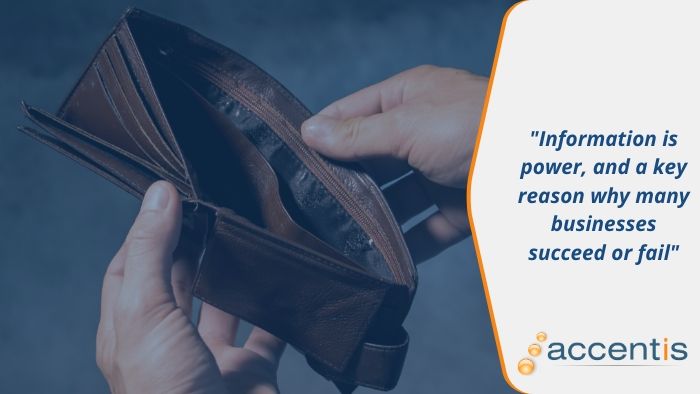 Staff enter the same data multiple times
Procedures are not being followed
Inventory and Time is not accounted for
Software updates cause business closure
Product warranty is for a limited time only
Recording of information is minimal
1 – Staff Enter the Same Data Multiple Times
Your business is losing money when staff enter the same data into multiple software programs. You are paying them to do a job they have already done.
Not only is it a waste of time and resources, it's a waste of money.
You could be getting twice as much done for the same value and might not need to hire a new staff member at all.
Inefficient data entry can cost a business up to $5,000 in a single year!
Accentis Enterprise has been designed with advanced database integrity to allow you to enter data once so it can be available as required in the future.
2 – Business Software is not Integrated
Your business is losing money if data needs to be shared between software services and currently isn't.
Data should be integrated so that it only needs to be entered once.
When business management software is unable to share data, it causes business friction.
This in turn slows down the business and causes more issues further down the track because information isn't available when it's needed.
Accentis Enterprise is a fully-integrated ERP system that provides businesses with a friction-less data sharing solution, helping businesses to grow and not be held back.
3 – Procedures are not Being Followed
Your business is losing money when data is recorded in multiple software products and must be entered twice. This increases the chance that mistakes will be made.
Software integration will limit mistakes, but this can create mistakes across the entire database if procedures are not followed.
Businesses can limit the mistakes by implementing an ERP solution to control who can access what data.
An advanced ERP system like Accentis has the capability to control work flows with a combination of process design and permissions control.
Unlike disconnect systems where the process cannot be controlled in one environment, Accentis Enterprise enables staff to do their jobs more efficiently by minimising data entry processing.
4 – Inventory and Time is not Accounted for
Your business is losing money if you are not aware of the items from which you make money.
In a business sense, inventory is not always a physical product. It can also be service time spent on a job or function for which you charge a customer in time-allocated slots.
Whether the item is a physical product used to manufacture a larger product, a retail or wholesale item that will be on-sold, or time that needs to be charged for to the customer, it's all similar to inventory and is a loss if not charged and accounted for.
Loss of stock due to shrinkage is a big deal, and one that costs many businesses time and money to track down and account for.
Lack of accounting for time spent working on a job can be detrimental to a business. Time once spent cannot be taken back.
Accentis Enterprise records all time and attendance requirements, along with a full stock control system to track your business inventory from the moment it arrives until it is sold.
5 – Software Updates Cause Business Closure
Your business is losing money if you are unable to make sales due to an issue with your business software.
The nature of business software means that it must be updated to have the latest features as the market grows or to fix errors that have been introduced.
Business software can include the point-of-sale (POS), back office management or even the entire ERP business management solution.
When software updates cause a business to close so that no sales or admin work can be done, this costs the business money.
Accentis Enterprise is an ERP company with a difference. If you choose to upgrade your software, you do so on our maintenance plan, which ensures your upgrade is monitored by one of our support staff.
6 – Product Warranty is for a Limited Time Only
Your business is losing money if you offer a product with a warranty and have no way to track it.
By law in Australia, there are certain automatic consumer guarantees that apply to many products and services, regardless of any additional warranties that may be offered.
If you choose to offer warranties on your products, you need to be able to track and manage them, or offer repairs.
Make sure that, if you offer extended warranties for your products, they can be tracked for future management should issues arise.
Accentis Enterprise software is covered by a lifetime warranty when the mistake is in our software.
Within Accentis Enterprise, you can manage all your warranty details not only on products you have purchased as assets, but also on products you sell.
7 – Recording of Information is Minimal
Your business is losing money if you don't record as much information about your business as possible.
Information is power and a key reason why many businesses succeed or fail.
It doesn't matter what business or industry you are in, information that can be used to increase sales in the future, market to customers or make business decisions needs to be recorded.
Some businesses will need to track personal information about each customer, such as billing and delivery addresses, whereas others will require a record of each manufactured component and how long it will take to make.
Accentis Enterprise ERP (Enterprise Resource Management) includes a CRM (Customer Relationship Management), SCM (Supply Chain Management) and MRP (Materials Requirements Planning) to do just that.
Job Costing and Fixed Asset Management are other modules that will record data that can be shared across the organisation to improve business growth.
Conclusion
If you think your business is losing money because of any or all these issues, you need to act.
Not only are you wasting money in your business, but you're also risking your business by creating friction where it isn't needed.
Accentis Enterprise is designed to handle each of these situations to help your business grow and not be held back by issues that get worse over time.
Contact us today! You'll benefit from so much more than just healthy profits.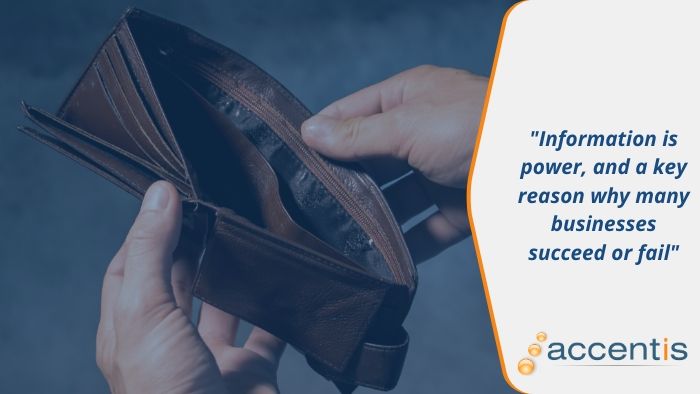 Are you ready to make more money for your business?
Click here to start your journey today!