What is Time Clock Software?
Time clock software is a business tool that records the amount of time employees spend at work. Sounds simple right? But it's much more than that too.
A time clock module will form a vital part of your business management ERP system. With roots to other modules for recording of data,you can report on every aspect of your business.
Spending money on your business is a no-brainer. It's important and needs calculating into your financial figures. Knowing where your spending occurs and how you can reduce costs is paramount.
Calculating employee costs on the goods and services your business provides is one way to do it. When used in the correct way, a time clock system will enhance the business. 

Accentis Enterprise contains many features across a range of modules for Australian and New Zealand SMBs. Developed in Australia in conjunction with a manufacturing plant, we're well placed to understand the needs of businesses in many different industries.
What is Job Costing Software?
Job costing or project management is the function of forecasting, budgeting and quoting. For some business industries, you need to know how to cost your goods and services to provide a quote.
Time spent working on a job is a cost to the business and is an asset. When it is not factored into the cost of a job, it's a liability and it's costing you money.
Accentis Enterprise ERP software gives you a first-class solution. By using data collected from the time clock and job costing, your business will benefit.
Accentis Enterprise Time Clock
Time is constantly moving. It's a non-relenting continuous beast that doesn't care about your business. Accentis Enterprise time clock can help to arrest that wasted time and apply the data as needed. Where can you use that data? In so many different ways!
Workforce management in any business plays a bigger role than time and attendance. It is the allocation of duties and time, used to deliver the most potential.
It is rather simple to manage staff and ensure they are working. Are you getting the best return on your investment for all staff hours though? There's most likely a good reason why you're not.
Does your business suffer these issues?
Manual timesheets causing issues
Your payroll clerk can't tell if the staff member wrote a 5 or an 8 on their timesheet. This can be from laziness, messy handwriting or staff trying to defraud the system.
Manual paper timesheets will cost your business money! Mistakes are expensive and one of the easiest things to protect against if you use the right tools.
Automated time entry for your employees logs them when they start and stop. By utilising biometric hardware, you can be confident they are at work when they log in. No more filling out timesheets for their friends to cover them.
Lack of management
Your manager took a night off, and all staff signed off at the same time with no one to verify. This leaves your staff with the ability to sign off long after they have finished their work. Employees take advantage of the opportunity to get paid for work they are not doing.
Using a job costing and time clock system, employee's pay will be equal to their work effort. You can also see which employees are doing their job within a certain time-frame. This allows you adjust rosters according to actual business needs.
Administration costs are too high
What happens when staff don't submit their timesheets on time, or at all? Pay day becomes a nightmare as administration staff have to chase them up. Employees run the risk of not receiving their pay and complaining about it to management.
The payroll officer should be able to have automated timesheets that are correct. A simple report can save valuable administration work time.

Reports are a big deal for any business. Accentis Enterprise has over 800 standard business management reports ready to go. Couple that with more than 3500 different combinations and you have data forever.
Unable to forecast or budget for new work
If management is not sure how long a job takes to complete, how do they give potential customers a quote? Good recording of time taken on previous jobs helps to forecast for new work. There is also the option to run timesheet labour recovery tools to get a true cost of work performed.
By knowing how long a job or service takes to do, managers can be confident in quoting for new work. Flying blind on facts and figures will leave financial gaps in your business.
What are the benefits of time clock software?
The benefits of using time clock software within any business are very positive. However, the benefits only come after you know the issues that you are facing.

Here are the top 5 time clock benefits:
Improved staff retention

Increased work efficiency

Sign on and off using biometrics or RFID

Instant data-capture for reporting

Better job costing capabilities
If employees are confident in the system you use to track their time, they are more likely to want to stay. By ensuring employees are correctly paid for the time worked, they know you value their time.
Employee's don't want to waste time filling out manual timesheets and calculating hours. It's not their job, and it shouldn't be. Let employees get back to doing what they do best, the job you hired them to do.
By using biometrics for employee time clocks, it eliminates buddy-punching that costs you. Staff need to be present to sign on or off, so fraudulent time wasting is not possible. Accentis Enterprise integrates directly with Aussie TimeSheets time clock hardware.

Time clock software makes data available instantly to other ERP system modules. Accentis Enterprise uses that data for reporting across your entire business. Time is important, but reporting on it is even more so.
One of those modules is job costing, or project management. By using facts and figures from actual work rates, you extend your business knowledge. Take advantage of the data to forecast a better business outlook.
Conclusion
Time and attendance software solutions are not all equal. Use Accentis Enterprise ERP to get the best benefits. As an Australian business management software solution, you're supported locally too!
A small to medium-sized business will often use many different products as they grow. After a while, it bogs the company down and efficiency will decline rather than increase.
Effective business management of time and attendance and job costing is paramount. It helps to minimise costs and increase profits.
Accentis Enterprise is a powerful business management solution. It offers complete manufacturing, wholesaling, distribution, project management and service industry tools.
What ERP software are you using for your business? Start a conversation and let us know today!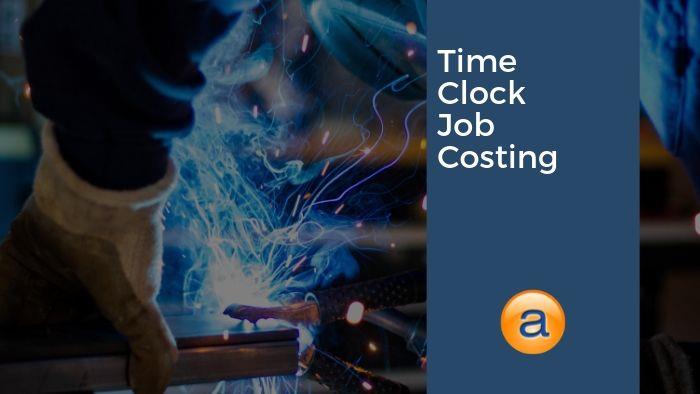 Are you ready to make more money for your business?
Click here to start your journey today!