Stock Control System or Sales Profits?
Sales in any business are great! But a good stock control system will affect both sales and purchases.
It's always good to have a great sales team, but it's always supported by a strong inventory solution. This ensures that the product is always there to sell when the customer wants it.
Those times that a product isn't available give the sales team a chance to move a product that is harder to sell. This helps with turnover, allowing a business to not keep too much stock on hand.
The longer your business owns a product, the more it will end up costing, reducing your profit. Losses can increase through storage, expired products, wages spent on maintenance and more.
Neglecting stock control and inventory management can affect sales. Accentis Enterprise helps small to medium-sized Australian businesses get control and keep it.
How does your business handle our top 5 questions about stock control?
1. How do you know what stock you need to order?
In some instances, taking a walk around the warehouse or a quick look into the storeroom gives you the numbers. But this is not at all accurate or reliable enough to run a company on.
Some business will have set up shelves with labels to help identify products easier. Using a barcode to scan stock bins or product lots will speed up the process of stock takes, but not so much ordering.
One of the best solutions is to use a stock control inventory system that can record stock movements. This will include not only purchases and sales, but stock transfers and write-offs too.
A more complete system such as Accentis Enterprise ERP will offer advanced reports. These include setting par levels, or low-level stock holding quantities, so you know how much to order.
A stock control system does exactly that. Controls your stock and every item movement from purchasing through to sales.
To know how much stock to order, run a report and have the stock in your warehouse as soon as possible!
2. What value of stock do currently own?
Being unable to answer this question affects sales!
If someone has made a mistake and ordered too much stock, you either need to return it if possible, or sell it. If you're going to sell it, there might be an opportunity to offer a discount or specials to customers to move it.
Knowing how much product you need to sell will affect the marketing you need to have behind it. Tracking your inventory is one of the most basic things you can do!
If the stock is perishable in any way, the sales team need to understand the loss in value if it's not sold in time. This is the same for stock that's no longer available from suppliers, or a new version gets released.
Why would a customer want a product you're trying to sell when there is a new one available elsewhere. Or how can you expect to make enough profit from stock you have had to continue to mark down?
3. As a manufacturer, how do you know what you can produce?
You've got everything you need to make a profit. A strong sales team, marketing, and all the brochures. But when the orders start rolling in, you realise you can only make enough to fulfil 50% of them.
Not only will you lose any potential profit if they cancel their orders, you ruin your reputation.
By being on the ball and knowing how much stock you are holding and what you can make with it, you're on the front foot. Accentis Enterprise can even allow you to do partial builds, so you can at least get started.
Our stock control system software will also allow you to change suppliers for any product, adjusting cost prices as you go.
This gives you a true cost of the item at manufacture and will minimise any cancelled orders.
4. What happens to stock that you can sell, use or return?
When you don't know what your stock inventory levels look like, you're likely to increase waste. You might also be paying for stock that becomes useless to your business.
It's a better situation to not order the stock at all, or you could throw money in bin instead. Shrinkage costs a business profit.
Did you know that more than 65% of stock shrinkage in a business is not the result of theft?
This is where a proper wastage or write-off procedure needs following. By tracking how much of each product you are writing off, you can try and limit that result in the future.
Items that you are unable to sell or end up making no profit on have no value in your business. It's dead money that you're paying for.
Work out the write-off or wastage process and make it the responsibility of employees. You need to work out how often these need to take place and make it a regular task.
5. How much is your business worth?
Your business' responsibility is to you, shareholders, employees, suppliers and customers. It's worth a lot of money and means a lot to many people.
An inferior stock control management system can put everything at risk. If you can't run a simple report that tells you the stock value your business is holding, you're flying blind.
An inventory management solution will prevent you from losing everything you have. It will also help you to increase profits by minimising waste and increasing sales.
Your business worth will be much easier to manage when you can run stock transaction reports. These will tell you what you buy, sell, write off and return.
A better valued business will sell more goods and return a better profit.
Accentis Enterprise Stock Control Management System
Accentis Enterprise is a powerful inventory management and stock control system. Fully-integrated with financial accounting, payroll, time and attendance and more. It's the ERP solution your business needs to do, well, business.
In Accentis Enterprise, there are many features and functions that you can use to improve:
Stock transactions

are tracked

from the date of purchasing right through until sales
Managers run automated reports, giving large amounts of information on the business including:

Current and past stock levels
Required stock orders
Detailed stock valuation
Stock perishable date (FIFO)
Write-off and stock wastage
Stock returns/repairs

Generate work orders and job sheets to see exactly how much product

is required

to fulfil orders
Auto-generate

purchase

orders that

are sent

to suppliers when stock is below par
Report on where stock is being wasted and why
FIFO or First In/First Out. An important way to ensure you're not selling stock that is new, when there is older stock to send first
Accurate forecasting of sales to know stock requirements and when they're needed
Increase profit through product sales and minimising waste due to overstocking your warehouse
Conclusion
Accentis Enterprise is Australian developed and supported software. We have helped companies in many industries, some of which include:
A fully-integrated ERP solution such as Accentis Enterprise will give you results. Business management software designed for the small to medium-sized business.
You can take more control of your business, starting with stock inventory.
To get a feel for Accentis Enterprise and how it will help to improve your business, start a conversation with us today!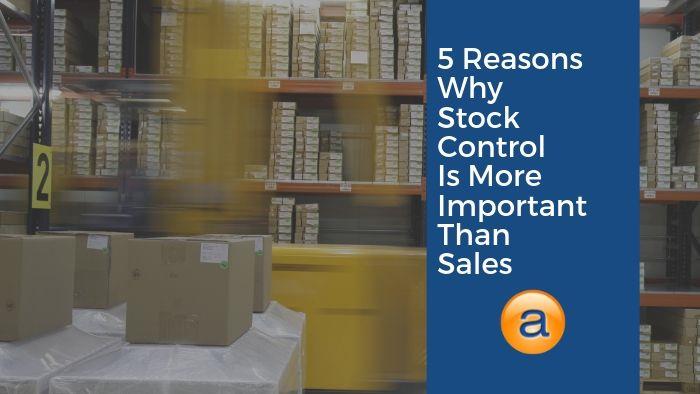 Are you ready to make more money for your business?
Click here to start your journey today!