Managing Inventory and Stock Control
Is your business struggling with simple inventory mistakes?
Managing inventory is a cost for any size business. When managed incorrectly, it can be costly.
If too many staff have access to the data, this can lead to a nightmare. Accentis Enterprise controls access to the entire database, not only inventory.
A company's profit erodes faster when mistakes occur more often than not. Many small mistakes will add up to cost the company valuable cash flow.
Inventory and Stock Control is, at the end of the day, simple mathematics and recording of data. You should know how much product you have available to sell and its location.
Inventory Mistakes and Shrinkage
Shrinkage in a business affects profit in a big way. Ruined or lost products still need to be paid for by the business to the supplier. When delivered, if the product is faulty there may be a chance to recoup the cost of the item, but not always.
Attributing who was at fault can be tricky depending on delivery guarantees. A business cannot sell an item that's destroyed, unless it sold for a loss.
Shrinkage also occurs when there are no data records or information about the loss of stock. Businesses are unable to account for stock that it knows nothing about.
Accentis Enterprise is small to medium-sized business management software that offers exceptional reporting on all facets of your stock control. Reporting shrinkage plays a major role in being able to identify and prevent stock loss.
Types of Shrinkage
Shrinkage is one of either two different types. One that the business knows about and can control, and one that the business doesn't know about and can't.
It's the loss of product that the business doesn't have control over or know about that causes the most concern.
Theft from a business, both internal and external, as well as bad recording of data lead to a loss of inventory. Promotional, damaged and internal use are the types of shrinkage the business controls.
Globally the highest source of shrinkage is shoplifting, per Sensormatic Global Shrink Index. Shoplifting accounted for over 34% of the total product loss. That means that over 65% of product loss was from factors other than theft! Supplier loss was 24%, Employee loss was 23% and Administrative loss 18%.
In Australia, Supplier loss was the highest recorded shrinkage for retailers at 34%. Shoplifting only accounted for 27% across the country. Employee and Administrative loss accounted for 24% and 14% respectively.
Recording Inventory and Stock Control
If you don't record losses for anything, your stock control is useless, and you may as well not bother.
Stock that's invoiced to your business and delivered into your stock is where it starts. A good inventory tracking system will have full control of the stock throughout the process.
It is "on-hand" the entire time it is in your possession until you either sell it or write it off. If you can't account for it as a worthwhile loss, your write-off stock is what will eat into your profit.
Most inventory mistakes are easy to avoid, if you know how. Training for staff on correct procedures and processes for all outcomes improves results.
Accentis Enterprise can create custom reports to manage any stock control needs. Each business is different needs rely on the ability to report on what is important. Because our inventory module includes a Warehouse Management System, it's a complete solution.
Inventory Check List
Here's some questions to ask yourself about your current inventory and stock control:
Do you perform regular and thorough stocktakes on all your items?
Who has access to the inventory system, and should they be able to adjust it?
Have you got too much stock on hand for what you need to run your business?
What happens to stock that you count, but isn't recorded in your system?
Are you recording your stock control on a notepad instead of using a software solution?
Have staff had the correct training on how to handle your inventory, and what to do if there's an issue?
Accentis Enterprise has a solution for each of these questions, plus many more! Your SME can take advantage of a powerful solution to improve your profit result.
Impact on Business Results
In the US alone in 2018, retail businesses lost close to $42 billion dollars' worth of stock. That's a huge calculation for small to medium business, which equates to 1.85% of product lost to shrinkage.
In Australia our figures were somewhat smaller at a loss of $2.24 billion dollars at a rate of 1.47% of product loss. Globally for retailers, the total figure amounts to almost $100 billion dollars lost!
This is a direct impact to a business' bottom-line and ability to generate a profit.
Keep in mind, these results are only for the retail sector and don't include stock loss from other markets. Manufacturing, wholesaling and distribution are also affected, making these figures even more unbelievable.
Let's run some figures for your business using the retail figures as a guide to see how your business copes.
Say you turnover $1,000,000pa in your SME. Using the retail figure of 1.47%, you would have lost on average $14,700! What could that buy for your business? Further narrowing it down to only 14% of the 1.47% being an Administrative loss, you would have lost $2,058 each year.
Is this a cost that your business can continue to bear the brunt of, with respect of losses elsewhere?
Conclusion
Controlling inventory mistakes is an important aspect of any SME's stock control. A manufacturing business can require a complex management solution. This is due to the manufacturing process being somewhat convoluted and inefficient.
A fully integrated software solution such as Accentis Enterprise can improve these processes. As an efficient business management solution, our ERP product offers many benefits.
Should you need a stable stock control and inventory system, look no further than our product. It also includes a WMS, Supply Chain Management, HR and Payroll, Job Costing and more. It truly is a complete business management solution.
Is your stock inventory system out of date and are you making any costly inventory mistakes? If so, you should talk to us.
Resources: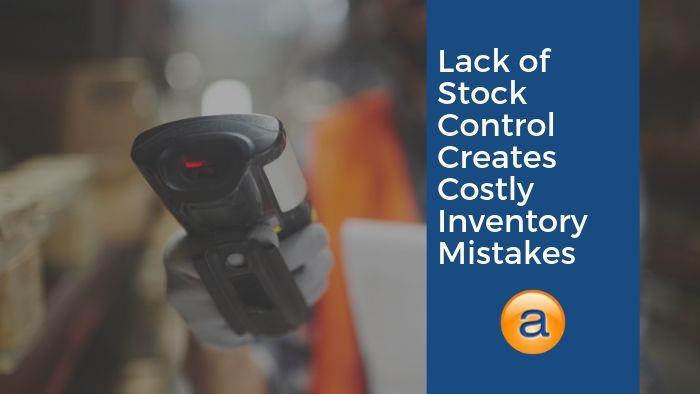 Are you ready to make more money for your business?
Click here to start your journey today!