Attending the Green Expo 2020
Accentis Enterprise is once again attending the Green Expo as a bronze sponsor for the event!
We want you to come and see everything that we do and how it can help your business. We're showcasing how you can streamline your business and become more efficient at stand 45(PDF).

The Green Expo is on the sunny Gold Coast on the 4th – 5th of August 2020.
The Green Expo allows you to rub shoulders with some of the best in the industry. This includes landscapers, nursery owners, gardeners, suppliers and of course, Accentis! Check out our event page!

We know that not everyone can take time out of their busy work lives to attend the expo, time is precious. If that's the case, start a conversation with us here and we'll get back to you to arrange a time that's more suitable.
If you're looking for some more information right away, we have some resources for you to download. There are a few horticultural nursery brochures, as well as an eBook on ERP software.
If you're attending and want to ask specific questions or learn more on a feature, let us know. We'll make sure the information you need is available, so we don't waste your time on the day!
Why attend the Green Expo 2020
If you're in the horticultural or plant nursery industry, you should know what the Green Expo is all about. Accentis attends to showcase our business management software, Accentis Enterprise. An ERP system for small to medium-sized businesses.
We're involved in the horticultural industry through many of our customers. Be it direct customers who are plant nurseries, or indirect, through manufacturers.
The Green Expo is unique as you can visit and speak to suppliers for the plant side of your business, and we're a bonus. Speak to us while you have the time, instead of trying to make time when you're back in the field.
Read more on what we do for the horticultural industry below!
Accentis Enterprise in the Horticulture Industry
We're familiar with the issues that people can have running horticultural businesses. We also have many solutions to a lot of those same problems.
Are you running out of time during the day to get everything done, or do you need to run to each job location for checks. Accentis Enterprise helps to improve efficiency in the workplace and provide workplace reports.
We know how to help you run a smooth business, and we're confident we can show you some tricks. Accentis Enterprise will be like a new employee that can do so much, you'll wonder how you did without it for so long.
When growing your plants from tube stock or seedlings, we can record the entire process. Full recording of growing details is all recorded to improve yields year on year.
Importing in bulk to wholesale and distribute to nurseries or stores, we can handle that too. We provide a solution that gives you the freedom to buy, store and sell, managing everything.
Accentis Enterprise includes a job costing project management module. This can make it easier to organise your business and set up processes to improve growth. Work order management will help to manage budget and forecasting so you can maximise profits.
Nursery Management Software
Running a business where your product is reliant on many processes, people and time can take its toll.
To be more efficient, you need structure and management of processes and procedures.
Accentis Enterprise will manage the inventory, sales and purchasing side of the business. But it will also handle the time and attendance, production and asset management.
Our ERP system for small to medium-sized businesses in Australia is your answer. It's a powerful software solution that is feature-rich, robust and industry tested.
The cost of production for growing plants gets calculated based on many factors. These include the medium, the plants, water use and employee time.
The total cost of production gets updated and recorded to allow you to make better decisions. Each new growing season provides more data to further refine your business.
Accentis Enterprise takes control of purchasing stock to sell and use in production. Production items include packaging, soil fertilisers and shipping labels and containers.
Once ready, inventoried items get shipped using the fully-integrated Supply Chain Management module. We then make sure all your accounts are in order and you get paid for the work you've done.
For nursery management, Accentis Enterprise is a single software solution doing it all. It's the complete manufacturing, wholesaling, distribution, project management and service industry software package.
Business Competition Making You Green With Envy
Are your competitors making you green with envy and you want to get even? Competition in business has never been greater.
Technology for business is always improving. Providing more data than ever before, you can glean information on any topic at any time of the day.
Did you know that in 1-day, modern humans will create more data than all humanity created up until 2003? Retaining and using data for your business, is, well, big business!
That's where an ERP solution such as Accentis Enterprise can help you run your business. That's the main reason we're at the Green Expo each year!
Our business management software has been developed for small to medium-sized Australian businesses. We have helped many different plant production nurseries and horticultural businesses.
Some of our clients are also showcasing their products at the Green Expo. This is a great chance to find out why Accentis Enterprise is one of the best solutions available.
Now is the time to make your competitors green with envy as they watch your successes. By using our ERP system, your business will start to flourish, and they'll want to get even!
Accentis Enterprise Horticultural Features
Before coming to the Green Expo, have a think about the 3 different types of features you might come across.
These include:
The main features that your business

must have

The great features that your business

would like to have

The unknown features that you want to

learn about
It's important for you to think about these features and how they will affect your business. If you only concentrate and find information on features that would be nice to have, you're going to find it hard.
The first thing to do is to track down the information to the features that your business must have. This will make sure that no matter what, you can continue to run your business as it stands.
The second thing to ask about is the features that you have already found could be helpful to you. This gives you an immediate benefit over your current system and can provide you with real value.
The third thing to find out about are features that we can offer you. By speaking to our representatives at the Green Expo, we'll glean information and help you see what's available. More often than not, there's a lot of features available that you didn't even think were possible.
We're here to help
Our representatives are able to help you through this process. We want Accentis Enterprise to be a useful to you as possible. The last thing we want is to offer a complicated solution that doesn't help your business in any way. It wastes your time and ours, and that's not what we're about.
Come and see us if you're interested in any of the following:
Complete inventory and batch visibility across many areas & growing locations

Extensive production management including real-time data capture & scheduling

Full bar coding and label printing capabilities

Low Cost customisation & reporting options

Electronic Data Interchange

(EDI)

functionality for Bunnings
Plant Nursery Management Software
Plant Nursery Management Software
Most businesses as they start to grow don't even know what they can't see, and that's half the problem. With Accentis Enterprise, you get to see, know and grow your business now and into the future.
So how do we do that?
When you have started to out-grow your current business management tools, how do you cope?
Many businesses tend to look for a solution one at a time. They fix a single problem with one solution, then need to find another solution to fix the next problem. In the end, you have so many software products that you create more issues for your employees.
This decreases efficiency and increases the time and money spent on your business.
Put all your fruit in one basket, and you can control your entire business with a single piece of software.
Accentis Enterprise is more than simple plant nursery management software though. It encompasses features that will help your business stabilise growth and increase work-flow.
You're unable to compare Accentis Enterprise against all the other software products. It's like comparing apples with oranges, and it's just not fair, to you…
Here's the Accentis Enterprise edge
Accentis Enterprise is so powerful that everything is possible within the one system. It grows as your business grows.
If you manufacture garden pots for nurseries, or you are a nursery that grows from seed, we've got you covered. You could be a nursery that sells only to wholesale, or you distribute to Bunning's. We can handle that too.
Ask yourself these questions of your current system:
Is

Inventory Management

a nightmare, or non-existent?

Do you use

complicated or multiple spreadsheets

to manage every day Data?

Have you got complicated work-around instead of proper

processes

for staff?

Can you generate Reports

quickly

and accurately

from a single source?

Do you need to enter the

same information into multiple systems

to keep up-to-date?

Are key staff keeping Valuable Data in their own heads?
If you're finding your business is not running as efficient as it used to be, or it's pot bound, it might be time to chat to us. That's why we're at the Green Expo, so drop in and say hi.
Is Your Business Pot Bound?
We have asked before some simple questions about how to know if your business is pot bound or not.
Soon we get to explore that even further with the people who know it all too well at the Green Expo. If anyone is going to understand what being pot bound or root bound means, it'll be this audience.
Pot bound or root bound, is "(of a plant) having roots which fill the flowerpot, leaving no room for them to expand". As you can see, the correlation between that and a business is easy to make.
How many times will a business think they need to hire a new employee to help with the workload? How many software products do you really need to run your business?
If the plant was re-potted to a larger pot, it can grow exponentially. It's the same with the business. A fully-integrated single software solution can be the larger pot!
A pot bound plant will live well in a small pot for a long while. However, it will not be able to draw enough nutrients from the soil into the plant to allow it to grow.
A business behaves in the same way.
How to prevent a pot bound business
There will be a lull in the business somewhere. It could be production, financial, or in the capabilities of the employees you have hired.
An ERP system is the larger pot that can make all the difference to whether your business grows, or sputters. Accentis Enterprise ERP can make all the difference to a small to medium-sized business.
A business becomes pot bound over time. It's not something that happens overnight. It's a slow, business-choking advance that, if not checked, will cripple your profits.
To get to the root of your business struggles and see what's affecting growth, you need to take a step back. You might ask a few questions of our representatives at the Green Expo for more information. Whatever you end up doing, do something!
You need to face facts and realise that if a business is stifled and constrained, it's happening at the core. It's an administration and management issue where all the record-keeping is taking place.
Accentis Enterprise picks up where off-the-shelf products like Xero and MYOB just can't compete. It's better to let your business grow, than keep it contained.
Conclusion
Accentis is proud to introduce Accentis Enterprise to the nursery and horticulture industries. We have many clients from the industry, as well as vertical industries, already using it.
A small to medium-sized business in Australia needs to be able to grow as their business does. Accentis Enterprise can help you do that.
We offer a powerful solution to the problems you may be having, and we do it how you want it. Our software is customisable, and we can implement many more reports than the 600+ that come as standard.
We control your entire business. From fixed asset management through to manufacturing and payroll. We do, do it all!
If you're thinking of heading to the Green Expo, you can register soon. We'll be on stand 45 ready to answer any questions you may have.

Want to find out more beforehand, then start a conversation with us now!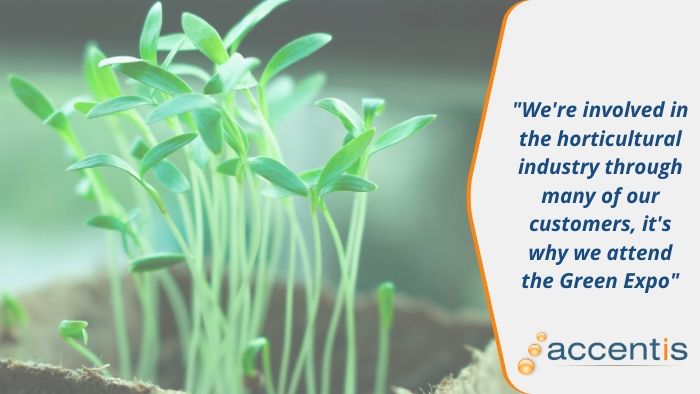 Are you ready to make more money for your business?
Click here to start your journey today!