***UPDATE***
The Green Expo is fast approaching and we're getting more excited each day. This is our first time at the expo, so we're not sure what to expect but we're looking forward to having a great time, meeting many new people and engaging in helpful conversations. Have you registered for tickets yet, if not, get onto it so you don't miss out!
The Green Expo is hosted by the NGIQ and NGIA and is Australia's premier horticulture event, and we're so happy that this year we get to be a part of it. Rub shoulders with people from all industries including landscapers, nursery owners, gardeners and of course, Accentis! We're located on stand 72, just to the right of the entrance as you walk in, located in the New Product Gallery. There's a little mud map below to help you out.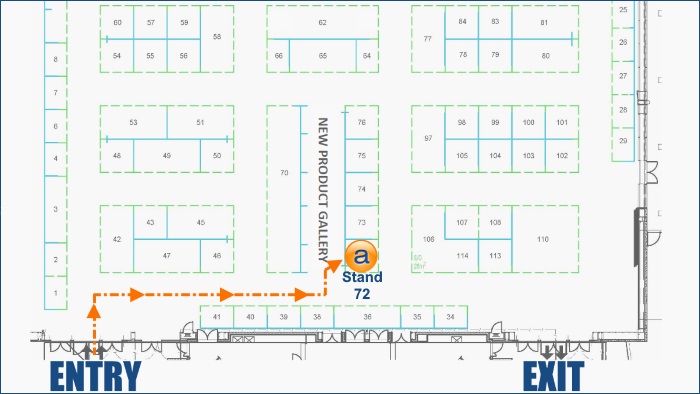 Too busy to drop in and say G'day? No worries at all. Simply fill out some details here and we'll get back to you as soon as possible. If you want, you can also download the brochures we have available on our stall, in the magazine and in the expo welcome pack right here. Looking for something specific before you attend and you'd like us to have some information ready? You too can fill in the form here if you want, and we'll catch up at the Green Expo and show you exactly what you want to know.
Remember, the Green Expo is on over two days in August 7th – 8th and you can register already. This is a FREE event, so get yourself sorted, register to attend, and we'll see you there!
***PREVIOUSLY***
Unlike Kermit the Frog, we reckon it's easy being green, and that's why we're attending the Green Expo in August! Are you a production nursery employee or someone involved in the horticulture business? If so, we'd love nothing more than to have a chat to you about how Accentis may be able to make your work life a little bit easier. We're all about helping you make your business grow and be manageable well into the future as you achieve success.
If you're running out of time during the day, or just having to run to your next job location to check on something, then we're pretty confident we can help you out. Accentis Enterprise is business management software with you in mind. We know what it takes to make your business run smoothly and we're always happy to help you learn some of the tricks that Accentis can do. Whether you're growing your plants from seedlings or tube stock, or importing in bulk to wholesale to other stores, we handle it all. With full job costing capabilities and work order management, we can help to keep your business on budget so you can maximise your profit in the green!
Running a business where your product is reliant on many processes, people and time can take its toll. Accentis Enterprise takes the hassle out of each process and helps to manage staff hours and time requirements. Staff members who manage growing can action all growing time-frames and all hours worked can be recorded on timesheets, adding automatically to the cost of production. Accentis will handle the purchases, the growing process, the packaging and the shipping processes with ease. We then make sure all your accounts are in order and you get paid for the work you've done. We're an all-round solution to single-handedly manage and improve your business so it runs as efficiently as possible.
No matter what your reason for chatting to us, come on into the Green Expo and visit our stand. We'll be on hand both days, with time for you to get all the information you need, and to challenge us with a situation you think we can't handle. We're confident we'll surprise you and we always aim to help you with whatever problems for which you need a solution. For more information, check out our Nursery and Horticulture page on the website. If you want to make sure you chat to Charles to Tim, drop us line here and we'll tee something up for you.